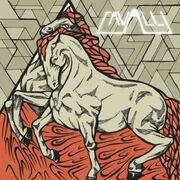 Cavalli - Cavalli EP
Lurking around the pubs and clubs of Deptford, Cavalli are London's best kept stoner-rock secret, and this is their self titled debut EP, released in May 2015. Hopefully their sheer brilliance will keep them from being a secret too much longer. The EP features four quite lengthy tracks, the shortest being just under five minutes long, and the longest is around the eight and a half minute mark. This gives Cavalli the opportunity to really stretch out and show you what they're capable of. Each track is crammed with hard hitting riffs and the moods sway from all-out fury to relaxed, good-time psychedelia. Lead guitarist Ed is a master of his craft; his often arpeggiated riffs darting in and out of the melee, and his solos either searing hot madness or lilting space oddessies reminiscent of Sungrazer. That's not to say the rhythm section are slouches either - bassman Davido and sticksmasher Antonio are a seriously powerful combo, anchoring everything down and keeping things moving forward with violent ferocity. The highlight of the EP for me is the aforementioned eight-minuter, titled "Storm": it opens with a speedy bouncing riff before dropping right down into a quiet, swaying groove with a half snarled, half whispered vocal then switching up into vintage stoner riffery, replete with cascading, spiralling solos. Wotta treat. There are flavours of punk and prog on this record to augment the desert rock, making it a fairly diverse and interesting listen - no loping Sabbath rip-offs here! Another nice touch is the gentle acoustic theme that creeps in after each track, allowing your mind to cool down before receiving the next onslaught. Something else that's worth mentioning is the production, which considering it was recorded, mixed and mastered in only two days (?!) is very bold and complimentary to the tracks, letting them breathe and leap out of the speakers when needed. All in all, a very solid first effort from a fantastic band, I eagerly await more from them. If you get the chance to see them live, I highly recommend doing so, as they will give you everything I mentioned above and more.
To hear and download the EP, head over to www.cavalli.bandcamp.com
Ad blocker interference detected!
Wikia is a free-to-use site that makes money from advertising. We have a modified experience for viewers using ad blockers

Wikia is not accessible if you've made further modifications. Remove the custom ad blocker rule(s) and the page will load as expected.