The Return of The Walking Dead

Promotional poster for the 2015 tour.
Tour of
Saint Vitus
Year
2015
Start date
May 29
End date
June 21
Shows
21
Region
Europe
Website
Official page
Saint Vitus tour chronology
The Return of The Walking Dead
(2015)
The Return of The Walking Dead was a tour by Saint Vitus in Europe in 2015. Notably, it was the first full live performances featuring original vocalist Scott Reagers in 20 years.
Background
Edit
In 2014, Saint Vitus' previous European tour with Orange Goblin suffered some trouble after Scott Weinrich was arrested in Norway and later deported, forcing Dave Chandler to provide lead vocals for the remaining dates of the tour.[1] On February 23, 2015 the band would announce their first date of the European tour (HellFest) and announce that original singer Scott Reagers would be providing lead vocals on the tour.[2]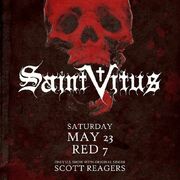 May 23, 2015 - Red 7, Austin, Texas
May 29, 2015 - Rockavaria, Munich, Germany
May 30, 2015 - Rock Im Revier, Gelsenkirchen, Germany
May 31, 2015 - Dackstock, Bern, Germany
June 1, 2015 - The Cage, Livorno, Italy
June 2, 2015 - Alchemia, Bologna, Italy
June 3, 2015 - Benicio Live, Giavera Del Montello, Italy
June 4, 2015 - Weekender, Innsbruck, Austria
June 5, 2015 - Rock In Vienna, Vienna, Austria
June 6, 2015 - Vintage Club, Zagreb, Croatia
June 7, 2015 - Dom Omladine, Belgrade, Serbia
June 8, 2015 - A38, Budapest, Hungary
June 9, 2015 - Modra Vopice, Prague, Czech Republic
June 10, 2015 - Hydrozagdka, Warsaw, Poland
June 12, 2015 - Rockclub Tapper, Tallinn, Estonia
June 13, 2015 - Nosturi, Helsinki, Finland
June 14, 2015 - Klubi, Tampere, Finland
June 16, 2015 - Bla, Oslo, Norway
June 17, 2015 - Truckstop Alaska, Gothenburg, Sweden
June 18, 2015 - Copenhell, Copenhagen, Denmark
June 19, 2015 - BWH, Deventer, The Netherlands
June 21, 2015 - Hellfest, Clisson, France
Songs Performed
Edit
Dark World
One Mind
Zombie Hunger
War Is Our Destiny
White Magic/Black Magic
Trail of Pestilence
White Stallions
Burial at Sea
Look Behind You
Mystic Lady
Saint Vitus
Born Too Late
External Links
Edit
References
Edit