The Mighty Auroch

The Mighty Auroch Live.
Background information
Origin
Louisville, Kentucky, USA
Genres
Doom Metal
Years active
2009 - 2010(As Auroch), 2010 - 2016
Labels
Independent
Associated acts
Slow Joe Crow & The Berserker Blues Band, Panopticon, Blind Scryer
Website
Facebook
Current members
Patrick Flanery
Austin Lunn
Adam Ullrich
Blair Yoke
The Mighty Auroch were a doom metal band originated from Louisville, Kentucky. Beginning in 2009 as Auroch but eventually changing their name to The Mighty Auroch and periodically touring around Kentucky and the surrounding area.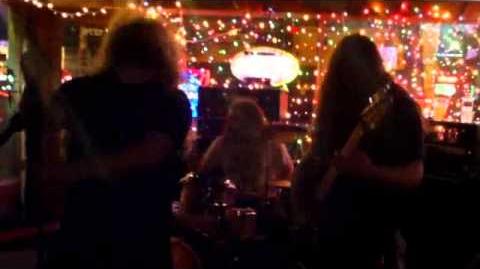 Their final show was announced in December 2015 (Mainly due to guitarist Austin Lunn moving to Minnesota to run Hammerheart Brewing Company.)[1], billed as "Return to Extinction". The final show happened at The New Vintage on February 6, 2016 alongside local bands Ohlm, Stagecoach Inferno and Satellite Twin (Stampede were intended to play the show but canceled due to scheduling/work conflicts.).[2] Their self-titled album was released on the same day as the final show.
Patrick Flanery - Bass (2009 - 2016)
Austin Lunn - Guitar (2009 - 2016)
Adam Ullrich - Drums (2009 - 2016)
Evan Handley - Vocals (2009 - 2012)
Blair Yoke - Vocals (2013 - 2016)
Discography
Edit
The Mighty Auroch (Album) (2016, Self-Released)
References
Edit
↑ Metal InjectionThe United States of Black Metal (See Kentucky section), accessed February 25, 2016.
Ad blocker interference detected!
Wikia is a free-to-use site that makes money from advertising. We have a modified experience for viewers using ad blockers

Wikia is not accessible if you've made further modifications. Remove the custom ad blocker rule(s) and the page will load as expected.