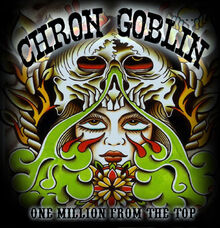 Chron Goblin "One Million from the Top" was released September 31, 2011 on Chron Goblin Entertainment. Recorded and mastered by Casey Lewis at Echo Base Studios. All songs written and recorded by Chron Goblin
Track Listing:
1. One Million from the Top
2. Make You Mine
3. Bring Your Idols
4. Why You Gotta Stare?
5. Freedom or Death
6. Open Up My Eyes and See
7. Mother, Brother
8. Suicidal Sewer Bomber
9. Come Undone
10. Instrumental
Ad blocker interference detected!
Wikia is a free-to-use site that makes money from advertising. We have a modified experience for viewers using ad blockers

Wikia is not accessible if you've made further modifications. Remove the custom ad blocker rule(s) and the page will load as expected.