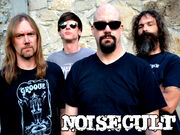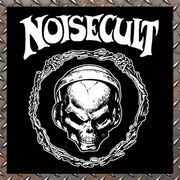 Formed in 2004, Noisecult rose from the ashes of several years of musical wreckage and determination. Pieced together by the Original nucleus of Don Carr (Guitar & vocals) and Bo Heyward (Lead vocals), Noisecult is the product of a 10-year-old musical collaboration. Beginning in 1993, Carr and Heyward began forming various bands throughout the years combining their love of 1970s and underground metal, aggressive punk and the classic dark wall of sound pioneered by Black Sabbath.
    Spring 2004, after a few year hiatus the two set out to finally bring together the band they had always strived to build. Planets aligned and there seemed no better time to form Noisecult. In late 2005, following the release of group's first length CD, End of Days, the band played all the shows they could to get the material out there.
    Through 2005 to 2009 Noisecult, Joined by bassist Sean Kay and drummers Matt McElroy and Ben Bomlitz, powered out a series of well-crafted self-produced albums. Noisecult is virtually an amalgam of metal, rock and punk. An original blend of styles that has the band reaching beyond the normal rock audience. This approach has created an open writing environment for all the band members to create Noisecult songs in a non-ridged no boundaries attitude.
    After signing up with Stik Man Records in late 2007 Noisecult's "Volume 3: Vociferous" expanded the group outside of the middle Tennessee area by radio airplay on 102.9 The Buzz as well as numerous college and internet stations across the country. Building upon the strength of their own songwriting and a solid foundation of a hard hitting live act that could share the stage with a variety of styles and bands, Noisecult took to the studio to hammer out another slab of twisted punk metal. 2009's "My War My Enemy" fast became a classic project that would see the band deliver a solid well received musical offering.
    "Playing our songs live and feeding off the energy you get from a crowd is what this is all about" says bassist Sean Kay. The past couple of  years saw Noisecult get some great exposure playing with some of punk and metal's most revered underground heroes like: Iron Maiden's Original vocalist Paul Di'Anno, Corrosion of Conformity, Death Angel, Overkill, Weedeater, seminal punk icon's FEAR, Skeletonwitch, Doro Pesch, Anthrax's Joey Belladonna, Icarus Witch, crossover hardcore legends D.R.I,  Zoroaster, Agent Orange, Warbringer, The Glasspack,Coliseum, and doom metal stalwarts Trouble. Sean adds "our goal is to take our music as far as we can push it and get it out there to as many people we can by playing live".
 2011 found Noisecult beginning the next chapter of their existence. Vocalist Mike Liffick joined the fold to continue the aural onslaught of heavy groove. The new lineup began writing for their next full length album and also recorded a pair of original heavy rock Christmas anthems entitled "All Around The World in Just One Night" and " Santa's Lament" . The former which will first be featured on the limited edition compilation benefit album "Rock The Manger". Both are now available on iTunes.com on the 2014 EP release called "All Around The World in Just One Night"
September 2012 saw the release of the next powerhouse sonic assault in Noisecult's musical arsenal. The new album titled "Psychedelic Death Trip" will feature 10 brand new songs.
Songs such as "Sins of Yesterday" , "Psychedelic Death Trip", and  "El Diablo's Trestiza" are sure to sit well among the groups best sludge filled material. "Rock n' Roll Rock Kill" is a fiery riff laden track warning of the perils of the rock and roll lifestyle & excess which then musically bleeds into a haunting transition to side two of the trip…"Marching Unto Death" and "The One True God" complete with its Deep Purple influenced Hammond Organ open, bring a melodic 1980's British metal vibe to album….and not ones to forget their love of punk, the disc rounds out with a couple of quick kicks to the ear in the likes of 'Lost in My Head" and "Your Misery".
In Sept 2016 Noisecult  unleashed "Burial Hymns" , the new crushing release and 6th overall.  A 13 song set of groove filled power trips to the brain.
Noisecult runs the gambit with tracks like  "Slipping Away (Into The Black)" featuring a Sabbath laden bass solo from Sean Kay, "Black Tide Rise", "Violent End" and the chaotically heavy "Extermination Blues". The powerful "Rollin' with My Fu Manchu"  is a fiery riff  heavy punk induced track echoing the pure rock n roll essence of the one and only Lemmy of Motorhead.
 In celebration of Noisecult's ten years of recording the guys have picked 6 early Noisecult songs to re imagine and reconstruct.    Live Noisecult classics such as "End of Days", "Just Another Blackout", "Never Meant To Die",  and "(At The) Gates Of Eternity" are brought forth with a new fire & energy and new arraignments  that the songs over time have evolved into.
Rounding out "Burial Hymns" is a live in studio recording of the Beastie Boys anthem "Gratitude". A rare cover in the Noisecult arsenal.   Guitarist Don Carr concludes " Sean's bass sounded so massive and cool when he was jamming that riff that we all jumped in to join him. Outside of the B3 which we added later the track was improvised and recorded live. We all liked it so much we figured we would add it at the end as a bonus cut".   "Burial Hymns" is available to purchase along with all other Noisecult releases, through www.noisecult.com as well as the band's www.amazon.com and CDBABY.com pages.   Search Noisecult on iTunes.com and Amazon.com mp3s and you will be able to grab the songs as individual downloads.  The entire Noisecult catalog are available to stream at all digital music outlets.
Discography
Edit
End of Days (2005)
One From None (2006)
Vol 3 Vociferous (2007)
My War My Enemy (2009)
Psychedelic Death Trip (2012)
All Around the World (In Just One Night) (2014)
Burial Hymns (2016)
Current Members
Edit
Don Carr : Guitar & Vocals
Sean Kay : Bass
Mike Liffick: Vocals
Kurt Pietro : Drums Matt McElroy : Studio Drums
Former Members
Edit
Bo Heyward: Vocals
Will Logan : Drums
Ben Bomlitz : Drums
Don Berger : Drums
Tours / Shows
Edit
Iron Maiden original vocalist Paul Di'Anno
Corrosion of Conformity
Trouble
Death Angel
Overkill
Weedeater
FEAR
Skeletonwitch
Doro Pesch
Anthrax's Joey Belladonna
Icarus Witch
D.R.I
Zoroaster
Agent Orange
Warbringer
The Glasspack
Coliseum
External Links
Edit
https://itunes.apple.com/us/album/burial-hymns/id1146703004
https://www.facebook.com/noisecult/
https://www.facebook.com/Noisecult.Official/
https://www.amazon.com/s/ref=ntt_mus_ep_srch?ie=UTF8&field-artist=Noisecult&search-alias=music&sort=relevancerank
References
Edit
Ad blocker interference detected!
Wikia is a free-to-use site that makes money from advertising. We have a modified experience for viewers using ad blockers

Wikia is not accessible if you've made further modifications. Remove the custom ad blocker rule(s) and the page will load as expected.