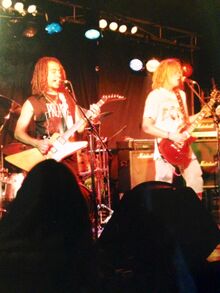 Jupiter Zeus are an alternative metal band from Perth, Western Australia with a 20 year history. They are one of the longest continuously running bands in Western Australia. The band has also been described as a hybrid of doom metal, psychedelic rock and space rock. Jupiter Zeus consists of vocalist/guitarist Simon Staltari, drummer Aaron Smith, bassist Jeremy Graham and guitarist Michael Lawson.
Nebula period
Edit
The origins of the band can be traced back to 1991 when vocalist/guitarist Simon Staltari formed a band with drummer Aidrian Vudrag called Weeping Cyclops. The two became friends in high school and discovered that they both shared a love of seventies rock and metal. Both would later make a pact to form a heavy rock band after they had finished high school.
Weeping Cyclops played a mix of cover songs and original compositions. Their sound was a blend of heavy rock, pop and metal. Various members came and went, but the lineup was solidified with guitarist Richard Tooke joining in 1992 and bass player Jeremy Graham joining in 1993.
The group changed their name to Nebula and their musical direction became considerably more heavier, with the band opting for a death/thrash/metal rock hybrid. Nebula recorded their first demo tape at Insound Recording Studio in January 1994. The demo titled "Born Deformed"], contained six songs of death/thrash metal, with guitarist Tooke now sharing vocals with Staltari. Both vocalists had developed death growl style vocals. Staltari still however retained his "clean" vocals.
In 1995 they recorded their debut album at Killing Time Recording Studio titled "Sadness vs Madness". It was engineered, mixed and co produced by Paul Weir and was released in early 1996. The album had 13 songs with the group still retaining their death/ thrash sound, but also introducing more punk and seventies style rock and metal groove based tunes. It received good reviews with one reviewer describing the album as a diverse release delving into many genres.
The band's popularity was nearing its peak with the album being heavily bootlegged in South East Asia as well as performing with Paradise Lost and Cathedral. In the following year, Nebula returned to the studio to record their second album titled "Whirlwind". Recorded at Satellite Recording Studio, the band's sound again evolved with many of the songs on this album displaying more of a rock flavour and Staltari singing more cleaner style vocals. Tooke also developed a self described "hardcore" voice and therefore added more vocal contrasts to their heavy brand of music. The album however was never released after it was deemed by music industry figures as not having a good enough sound quality. This assessment irked the band considerably and was an ominous sign that Nebula's drive and momentum would soon be in free fall.
Nebula however picked up the pieces and in the following year returned to Killing Time Recording Studio to record a single titled "Exquisite Day" along with the song "From Womb" (which was later re-recorded on Jupiter Zeus' "Green Mosquito" EP). This was a positive moment for the band but the song was never released. This was unfortunately a trend that was set to repeat itself again due to the bands increasing instability, coupled with personality clashes and musical differences between band members.
In 1999, Nebula's lineup briefly expanded to a five piece. Bassist Jeff Gibson formerly of local Perth hardcore metal band "Hateman Tribe" was recruited with Graham now moving on to keyboards and synth. This was brought on by Graham's ever increasing desire to include and experiment with psychedelic sounds through the use of old school synthesizers into Nebula's music. The psychedelia would later manifest itself in the Jupiter Zeus era. However, this lineup change was short lived with certain members deciding that the musical experiment was not working, and henceforth Gibson was given his marching orders.
The band's momentum and drive quickly unraveled due to infighting and also due to various members succumbing to "personal issues". Nebula played their final show at the Seaview Tavern in South Fremantle on the 18th of July. Another significant factor in their demise was their ever increasing awareness that another stoner rock band from the U.S had also the "Nebula" name and were quickly making inroads in the heavy music scene.
Post Nebula
Edit
Band members Vudrag, Graham and Staltari regrouped in 2001, and changed their name to Jupiter Soup. Without Tooke in the lineup, the trio forged ahead on their musical journey. They had to shake off the belief that without Tooke in the lineup, they would not be good enough. This was due to the fact that Tooke was considered to be a band leader and displayed a degree of dominance on stage and off. This was especially evident on stage with Tooke's commanding stage presence and interplay with the crowd.
Jupiter Soup continued to write new material, believing that they could no longer play Nebula's songs due to his absence. The turning point eventually came when the trio wrote the song "Cosmic Rays" (another song that was re-recorded many years later and included in the On Earth album). This song was highly regarded by the group and instilled a new self belief that they were still good enough, despite the "gaping hole" created by the departure of Tooke.
Jupiter Soup's music was less extreme than the previous outfit, but still retained heavy grooves and also adding more experimentation with acoustic guitars and synth/keyboard sounds. In 2002 they recorded an EP at Slam Studios. Again, the recording was never released due to Jupiter Soup disbanding soon after brought on by Vudrag quitting the band due to a dispute over song writing credits on the EP.
In the following year, the off again on again relationship resumed with the band reforming and now calling themselves "The Trip". The lineup also included Sareth Maya, a long time friend of Nebula and formerly of now defunked Perth thrash/punk band "Moth". Moth were a short lived band that also played gigs with Nebula in the mid 1990s. The band also had guitarist Michael Lawson in their lineup, who would later join Jupiter Zeus. Maya played bass, with Graham now playing keyboards. The band soon returned to Slam Studios to record another EP. They played a handful of shows in the Perth music scene, but soon broke up with Maya leaving and Vudrag unable to commit to the band due to work pressures. In the following years between 2004 - 2007, the group were in an indefinite hiatus with several members starting families.
Nebula reformation
Edit
In 2007 the original Nebula lineup reformed with Tooke rejoining the fold. The band decided to retain their original name and performed two gigs in Perth. The reunion was brief with Tooke declaring that the band had changed too much to a point where they were no longer good enough to play Nebula's material, particularly their fast paced early death/thrash songs. There may have been a degree of truth in Tooke's harsh assessment, but other band members would later question his judgement.
Jupiter Zeus period 2008 - present
Edit
In mid 2008 band members Staltari and Graham resumed their sonic relationship and rediscovered their creative spark. This resulted in them writing and recording a demo version of a song with which was later to be titled "Antiquity". This song encapsulated their soon to be a new musical direction, containing slower, doomy, stoner grooves. Vudrag again rejoined, showing an instant liking to the newer material. The group resumed writing new songs, also revisited older material and also immersed themselves in a renewed enthusiasm.
They were going to again name themselves Jupiter Soup, the same name they first used, following the first Nebula break up. However, they changed their name to "Jupiter Zeus", after realizing that the two names had the same mythological meaning. Vudrag would later reveal in an interview, "Jupiter and Zeus are the Roman and Greek equivalent of each other." They soon decided to record a CD with their own recording gear in Staltari's own fruit shed. This resulted in 6 songs being recorded and it was titled "Antiquity".[9]
In the following year, guitarist Michael Lawson (ex Moth) joined the group, upon hearing the demo CD. Lawson was also a huge admirer of Nebula. "I've kept in touch with them over the years and have always been meaning to go have a play with them, but it has only just eventuated now." said Lawson in an interview. Lawson's inclusion added much more "muscle" into Jupiter Zeus' rhythm section. He was also adept at playing lightening fast lead breaks, a carry over from the Moth days. With an added guitar, it allowed Jupiter Zeus to delve into previous Nebula songs. Consequently, many Nebula songs, especially from the latter period were re-worked, performed live and also eventually re-recorded.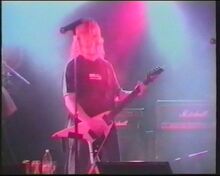 The "Antiquity" CD was released in early 2009. Despite it's relatively poor sound quality, the band believed that releasing the CD was a triumphant moment, for the mere fact that within the last 12 years they had failed to release any recordings due to unfavorable circumstances. According to thedwarf.com.au, majority of Jupiter Zeus' songs on this release boast larger than life sounds. On September 11, 2011 Jupiter Zeus released their break through "Green Mosquito" EP. It was recorded at Poons Head Studio's , produced by Rob Grant. 4 songs were recorded in a studio known for having a large collections of vintage recording equipment. It was highly regarded by music critics with The Ripple Effect stating "it's been a long time since a band struck a chord this deep". In 2012 Jupiter Zeus signed with US label Magnetic Eye records headed by Mike Vitali formally of stoner rock bands Ironweed and Greatdayforup.
Jupiter Zeus returned to the studio to record their debut album for Magnetic Eye Records titled "On Earth" in May 2013. It was recorded at Underground Studios and Beach house Studios (a name chosen by band members to describe Staltari's family beach house located near Mandurah). Simon Mitchell from Perth progressive metal band "Chaos Divine" engineered and produced the 11 song album. It was mastered by Leon Zervos (Muse, Fall Out Boy, Maroon 5, Beastie Boys, Interpol, Dream Theater), . The album was a slow process taking almost a year to complete. Twoguysmetalreviews.com stated "Jupiter Zeus are the kind of band who really have no true peer" "On Earth" was released on March 11, 2014.
Aidrian Vudrug left Jupiter Zeus in 2016 after a short Australian tour and was replaced by Aaron Smith from Adelaide band Diatribe.
As of 2017 Jupiter Zeus finished recording a followup album to 2014s "On Earth" entitled "Eyes on the Prize" interspersed with a short tour of New Zealand.
The Eyes on the Prize EP was released in October 2017
Band members
Edit
Current lineup
Simon Staltari - vocals, guitar
Aaron Smith - drums
Jeremy Graham - bass
Michael Lawson - guitar
Former members
Richard Tooke - vocals/guitar
Sareth Maya - bass
Aidrian Vudrug - Drums
Discography
Edit
Born Deformed 1994
Sadness vs Madness 1998
Antiquity 2009
Green Mosquito 2011
On Earth 2014
Eyes on the Prize 2017
References
Edit
https://au.news.yahoo.com/thewest/regional/south-west/a/17679883/jupiter-zeus-ready-to-rock-with-us-label/
External links
Edit
www.jupiterzeus.com
www.facebook.com/jupiterzeusrock