Dungaree
Background information
Dungaree is a 4-piece stoner/grunge band based in Szeged, Hungary. Their muddy, heavy and deserted sounds are influenced by Black Stone Cherry, Red Fang, Alice in Chains, Pearl Jam, Queens of the Stone Age and many others.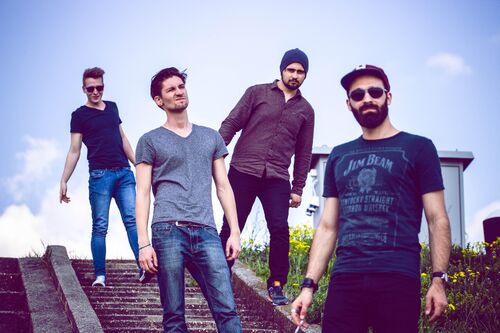 Biography: Two southern Hungarian guys couldn't think about anything else but heavy gitar riffs and rocking the blues lifestyle. One played the guitar, the other one sang, so they went online and found a bassist and a drummer and formed Dungaree in early 2014. All members listened to similar bands, they started writing songs together immediately: their music builds up on the basis of hard and muddy riffs, heavy and fat bass lines and smokey blues grooves. The band's sound generally follows a dry desert tone, with the influences of Black Stone Cherry, Red Fang, Alice in Chains, Pearl Jam or Queens of the Stone Age for example.
Dungaree wasn't even a year old when they had two releases already: their 3-track debut EP, Climb out of the River was released in October 2014, receiving positive feedback from critics in Hungary and abroad too. Following several concerts, their second EP, Final Yell was released in mid April 2014. 
Official website: http://dungareeband.com/
Facebook: https://www.facebook.com/dungareeband
Members:
Gergely László: vocals
Zoltán Horváth: guitars
Attila Balogh: bass
Dominik Dencs: drums
Ad blocker interference detected!
Wikia is a free-to-use site that makes money from advertising. We have a modified experience for viewers using ad blockers

Wikia is not accessible if you've made further modifications. Remove the custom ad blocker rule(s) and the page will load as expected.