Dale Crover (EP)

Album cover for the Dale Crover EP.
Extended play by Melvins
Released
1992
Recorded
1992
Genre
Grunge, Punk Rock
Length
12:42
Producer
Greg Freeman and Dale Crover
Melvins chronology
King Buzzo (EP)
(1992)
Dale Crover (EP)
(1992)
Joe Preston (EP)
(1992)
Dale Crover is one of three solo EP releases by The Melvins, released on Boner Records in 1992. This release more closely sounds like Crover's band Altamont.
Background
Edit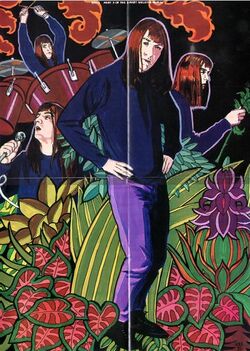 The cover art and poster for the album is a parody of the cover art from Peter Criss' 1978 solo release. Crover's collaborator to help with the release was Debbi Shane, his girlfriend at the time.
Tracklist
Edit
1. Hex Me (1:14)
2. Dead Wipe (2:47)
3. Respite (4:16)
4. Hunter (4:22)
Personnel
Edit
Dale Crover - lead vocals, backup vocals, rhythm guitar, lead guitar, drums, producer
Debbi Shane - bass, backup vocals
Greg Freeman - producer, engineer
Harvey Bennett Stafford - cover and insert painting
Tom Flynn - catering
External Links
Edit
References
Edit