Candlewolff Ov Thee Golden Chalice

Album Cover depicting Thee Candlewolff.
Live album by Sunn O)))
Released
March 2005
Genre
Drone Doom
Length
19:30
Producer
Guy Worth
Sunn O))) chronology
White2
(2004)
Candlewolff Ov Thee Golden Chalice
(2005)
Black One
(2005)
Candlewolff Ov Thee Golden Chalice was a live album by Sunn O))).
Background
Edit
Sunn O))) were booked by John Peel for a forthcoming Peel Session, set for December 9, 2004. However, John Peel died on October 25, leaving this to be the band's only Peel Session and the final session to be booked in advance by Peel before his death. The session was broadcast on December 21, 2004.
The session was pressed for vinyl via the Anti-Mosh label and sold exclusively on tour in 2005 in red and black vinyl. 100 Red copies were also included in a special edition of the WHITEbox. The same program repeats on both sides.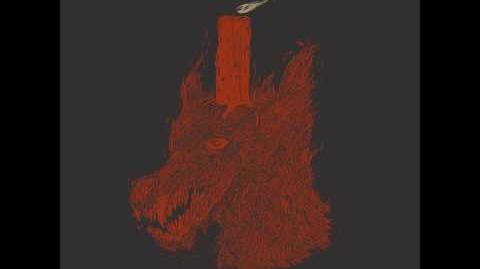 Tracklist
Edit
1. Candlewolff Ov Thee Golden Chalice (19:30)
Personnel
Edit
Stephen O'Malley - Guitar (GloomAxe), Harmonium (As Feedbacker)
Greg Anderson - Bass (Axe), Moog Synthesizer (Heartbeat Micromoog) (As Mystik Fogg Invokator)
Rex Ritter - Moog Synthesizer (Lead Micromoog) (As Rx)
Edwin Pouncey - Tamboura, Artwork (Pixelizations) (As SAVX aka Savage Pencil)
Tony Sylvester - Harmonium, Sruti Box (As GrimWillows)
John Weise - Mastering (As White Helicopter)
External Links
Edit
References
Edit
Ad blocker interference detected!
Wikia is a free-to-use site that makes money from advertising. We have a modified experience for viewers using ad blockers

Wikia is not accessible if you've made further modifications. Remove the custom ad blocker rule(s) and the page will load as expected.