Black Birds of Paradise

BBOP live 2016.
Background information
Also known as
BBOP
Origin
Louisville, Kentucky, USA
Genres
Psychedelic Rock, Stoner Rock, Lounge, Pop
Years active
2012 - Present
Labels
Gubbey Records, Louisville Is For Lovers
Associated acts
The Cut Family Foundation
Website
Facebook
Black Birds of Paradise are a psychedelic rock band out of Louisville, Kentucky. Their sound incorporates elements of psychedelic, stoner rock, lounge and even dream pop. The band and Gubbey Records' website refers to them as "Psychedelic Lounge Metal".
Black Birds of Paradise began in 2012 with members of the Louisville music scene, composing poppy psychedelic music as a three-piece but quickly expanding to a quartet. Eventually at some point in 2013 they would release songs on compilations for Gubbey Records and Louisville Is For Lovers before eventually releasing BBOP in 2014. The band would play sporadic shows around the Kentucky area in the meantime.
Eventually the band would expand further as a quintet. Eventually they would sign to Louisville label Gubbey Records two years later for their sophomore album Terror Bird. Terror Bird was released on May 14, 2016 with a release party at the Haymarket Whiskey Bar with supporting acts Insect Policy and BRENDA and a visual display by Spettra.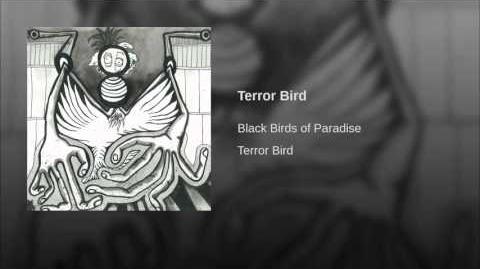 Discography
Edit
Studio Albums
Edit
BBOP (2014, Self-Released)
Terror Bird (2016, Gubbey Records)
Compilation Appearances
Edit
I Love You (But I Don't Know Why) on Head Cleaner: A Louisville Music Compilation Vol. 1 & 2 (2013, Gubbey Records)
I Had A Good Mother And Father on There Is No One: Louisville Is For Lovers Tribute To The Palace Brothers (2013, Louisville Is For Lovers)
Terror Bird on Head Cleaner: A Louisville Music Compilation Vol. 3, 4, 5 & 6 (2014, Gubbey Records)
The Fuck You Say on Head Cleaner: A Louisville Music Compilation Vol. 7, 8, 9 & 10, 11 (2015, Gubbey Records)
John Lewis - Guitar, Vocals
Regan Layman - Vibraphone, Percussion, Vocals
Dashiell Moss - Bass, Vocals
Nick Layman - Drums, Engineering
Katy Hartman - Guitar, Organn, Vocals
External Links
Edit
References
Edit
Ad blocker interference detected!
Wikia is a free-to-use site that makes money from advertising. We have a modified experience for viewers using ad blockers

Wikia is not accessible if you've made further modifications. Remove the custom ad blocker rule(s) and the page will load as expected.