20 Year Anniversary Party

Box art depicting the flyer for the event.
Video Information
Released
October 22, 2007
Starring
Candlemass
Genre(s)
Epic Doom Metal
Length
2:01:00 (Main Program); 3:00:00 (With Extras)
Label
Peaceville
20 Year Anniversary Party is a live DVD by Candlemass. The show was shot live on March 31, 2007 at Kolingsborg in Stockholm, Sweden. To make the experience more unique the show also hosted a series of different vocalists and a setlist spanning their whole career at the time.
Background
Edit
Candlemass announced a 20th anniversary set was in the works, likely to celebrate the 20th anniversary of their first album rather than when the band formed in 1984. However with the departure of Messiah Marcolin, this special show would be delayed until March 31, 2007.
The set featured, along with guests, Candlemass vocalists from the past, present and future all performing various songs from their eras. The DVD mainly promoted three vocalists: Thomas Vikström (Vocalist on Chapter VI) in his first appearance with the band since 1994, Robert Lowe in what essentially was an introduction to the audience as the new vocalist at the time and original vocalist Johan Längquist (Vocalist on Epicus Doomicus Metallicus) in what would be his first ever live performance with the band. Of all the Candlemass singers only Björn Flodkvist and Messiah Marcolin were not present for this performance.
Tracklist
Edit
All songs written by Leif Edling except where noted.
The Dying Illusion - 6:23
Dark Are The Veils of Death - 4:44
Where The Runes Still Speak - 9:52
Ebony Throne - 4:37
The Well of Souls - 6:23
Black Dwarf - 6:17
At The Gallows End - 6:01
Demonia 6 - 7:22
Samarithan - 6:11
Mirror Mirror - 6:29
Crystal Ball - 7:00
Demon's Gate - 10:25
Under The Oak - 6:58
A Sorcerer's Pledge - 12:31
Witches - 7:46
Bullfest - 3:15 (Ulf-Peder Olrog)
Solitude - 7:53
Personnel OR Starring
Edit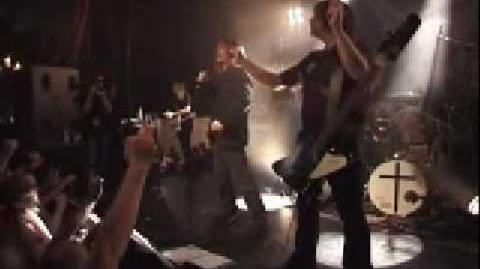 Candlemass
Edit
Vocalists
Edit
Thomas Vikström (Tracks 1 - 4, 16 - 17)
Janne Christoffersson (Track 5)
Mats Levén (Track 6)
Mikael Åkerfeldt (Track 7)
Robert Lowe (Tracks 8 - 10, 17)
Johan Längquist (Tracks 11 - 14, 17)
Tony Martin (Track 15)
External Links
Edit
References
Edit